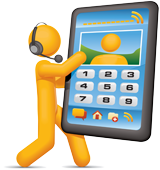 Sign up for service
Residential Pick-up Schedule
Please bag all trash and set your garbage container within 3 feet of the curb and 5 feet from other obstructions by 5:00am on pickup day. Weekly residential garbage collection is performed Monday through Friday. Please find below the Residential Town Service pickup days and Iowa Great Lakes Residential Schedule.

Residential Pickup Schedule Tool

Now it is easier than ever to enter your residential address and look up your pickup schedule. Or you can use the Waste Wizard to look up an item to learn if it is accepted for collection.


Click on the links above to download the WasteConnect app to your phone.
Residential Town Services

Monday

Tuesday

Wednesday

Thursday

Friday

Saturday

Archer

Everly

Fostoria

Calumet

Lake Park

Wahpeton *

Arnolds Park

Lake Park *

Granville

Dickens

Matlock

Harris

Wahpeton

Hills

Germantown

May City

Ocheyedan




Little Rock

Greenville

Melvin

Orleans

Peterson

Langdon

Sioux Rapids

Paullina

Steen

Moneta

Arnolds Park *

Rock Rapids




Rossie

Royal

Orleans *

Superior

Sutherland

* Indicates Summer Pickup only
Iowa Great Lakes Residential Subscription Schedule

Monday

Tuesday

Wednesday

Thursday

Friday

Arnolds Park rural

Big Spirit Lake

East Okoboji




Milford Rural

Methodist Camp

East Okoboji

Francis Sites

Orleans Rural

Kelly's Beach

Loch Knolls

Moore Devel.

West Lake Okoboji

Pasture Road
Winter Holiday Service Schedule*:
Town & Country Disposal does NOT provide residential garbage removal on the following holidays:
Thanksgiving Day
Christmas Day
New Year's Day
Summer Holiday Service Schedule*:
Memorial Day
Fourth of July
Labor Day
* Service may remain the same depending on where you are located. We work all Summer holidays in Dickison, Clay and most of O'Brien counties.

Please watch for website alerts and our Facebook page for holiday service details.
*Please contact us with any questions.